Indian beverage brand names can help you take a walk down memory lane.  Thums Up, our very own thunder drink is now 40 years old. Launched in 1977 by the Parle Brothers, to offset the withdrawal of Coca-Cola from India, it was bought by Coca-Cola in 1993 and re-launched to compete with Pepsico. Thums Up's market share at the time of its selling was 85%. It is still the largest selling cola.
Also read about India's top alcohol brands. 
Here are 9 Indian Beverage Brand Stories:
1. Limca – it's a drink, not just a book of records
Limca launched as a Parle Agro soft-drink brand, Limca was bought by Coca-Cola in 1993; along with Thums Up, Gold Spot, Citra, and Maaza. Of the brands bought, Limca, Maaza and Thums Up are popular household drinks to this day. Despite its huge popularity, Gold Spot was discontinued by the Coca-Cola Company to launch its own orange flavor brand- Fanta. Citra was phased out by the year 2000, to launch Coke's international brand- Sprite. Limca however, continues to be one of the most favoured beverage brands in India. It also has its own book of records, which was launched by Ramesh Chauhan of Parle Agro and it continues to record feats and other unique statistics from an Indian perspective.
2. Rasna – remember the original DIY drink?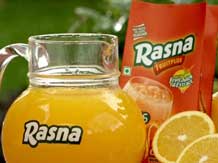 A soft-drink concentrate brand owned by Pioma Industries and based in Ahmedabad is India's leading soft- drink concentrate brand. It was launched in 1976; however, it gained popularity during the eighties. Through the years Rasna has grown and expanded its outreach. It continues to be a trusted brand in Indian households. As of 2015, Rasna's market share was 85%.
3. Duke's – Mumbai's favourite soft drink
An aerated soft-drink brand, found by Dinshwaji Pandole in 1889, Duke's was a favourite soft-drink brand in Mumbai. This 129-year-old brand was bought by PepsiCo in 2011 and re-launched with three additional flavours apart from the original lemon flavor. Duke's to this day, enjoys huge popularity in Mumbai and is now a symbol of Mumbai's legacy.
Roohafza, is a non-alcoholic cooling drink formulated by a Unani physician called Hakim Abdul Majeed in 1906. The business grew and became the most sold product of Hamdard Company. Its earliest distributions were centred around Delhi. However, when one of Hakim Abdul Majeed's sons migrated to Pakistan and started a Hamdard brand there. The company continues to have loyal customers, it has also launched several advertisements to lose out to the youth of the country. Despite stiff competition, the Hamdard group claims that Roohafza owns 42% of market shares and plans to double its sales by 2020.
(Looking for popular Indian alcohol brands? Here are our 5 picks and their brand stories.)
5. Kissan Squash – used to be owned by a brewery!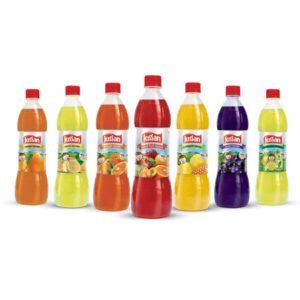 Introduced for British settlers in 1935, the Mitchell brothers set up Kissan's first fruit processing unit in Bangalore in 1947. Kissan as a brand was bought by United Breweries in 1950 and sold to Hindustan Unilever in 1993. A household name, Kissan has meant innovation since the day of its inception. Kissan squash was a revolution when it was launched, however, this Indian beverage brand's market has faced severe competition from other beverage brands like Rasna and Cola companies.
6. Frooti – an Indian fruit drink brand
Launched in 1985 in a green tetra pack, Frooti continues to be Parle-Agro's popular fruit drink. Frooti was the first fruit drink to be available in a tetra pack or in a pet bottle. Despite facing stiff competition from Mazaa and Slice, Frooti continues to be the second most popular Indian beverage brand with a market share of around 25% (as of 2016).
7. Bovonto a top soft drink from Tamil Nadu
P.V.S.K. Palaniappa Nadar launched Bovonto in 1958, in Virudhunagar. Over the years this Indian beverage brand has battled the popularity and aggressive marketing of Spencer's, Parle, and MNCs. Bovonto has held on to its market of loyal customers and in an INR 100 crore company. In the recent years, the company has modernized itself and re-launched itself as 'KALIS SPARKLING WATER PVT.LTD' at Madurai.
8. Keventers – making Kolkata childhoods sweeter
Founded by Edward Keventers in the early 1900s as Aligarh Daily Farm, this Indian beverage brand name became synonymous to good quality milk in Delhi in 1925 when the brand opened a shop front in Chanakyapuri, Delhi. The ownership of the company changed hands in 1940 when Ram Krishna Dalmia took over the reins of the Company. The brand expanded its bases to as far as Kolkata. In 1960, Keventers was the first to produce milk powder. It also was the first to provide milk powder to the Indian Army. It also came up with milkshakes which became the pride of Delhi. However, with the development of Chanakyapuri as the diplomatic zone, the Keventers milk factory was closed, although several small outlets continued with the brand name. In 2015 Agastya Dalmia, the great-grandson of Ram Krishna Dalmia along with his friend decided to reconstruct the brand. Keventers since then has outlets in all metros and upcoming cities, even small state capitals like Ranchi and aims to cover all parts of India.
9. Campa Cola – evergreen Coke alternative
In the mid 70s, Coca Cola departed India after regulations became unfavourable.  Campa Cola was launched as an alternative and achieved immense success upon its launch. With a refreshing taste and clever marketing campaigns – including one with a young Salman Khan – it quickly gained a loyal customer base. 
Campa Cola faced a decline in the 90s with the re-entry of Pepsi and Coke. Despite its prior success, intense competition from these global giants led to a loss of market share and consumer preference, causing Campa Cola's downfall.
In 2023 it is back – relaunched under the ownership of Reliance! Remains to be seen whether it can outcompete them. 
Indian Beverage Brands to Look Out For:
Smoodies: With no added sugar or preservatives and sold in glass bottles, this is an alternative to freshly pressed juices.  Appeals to the health seeking customer. 
PaperBoat: Launched in 2013 with just two flavours, PaperBoat has entered the homes and hearts of many Indians. This is truly an Indian brand with flavours like Aamras, Aampanna, golgappe ka pani etc the brand has established itself as the harbinger of the customer's nostalgic childhood. It has a strong connection with every Indian who misses home-cooked food in their adult life. The brand has grown consistently, with launching products like chikki and tea.
In 2022 Hector Beverages, the parent company of Paper Boat, secured INR 400 Cr ($50.1 Mn) from Lathe Investment Pte Ltd, which is wholly owned by Singapore-based sovereign fund GIC.
Paper Boat leverages nostalgia to evoke an emotional appeal, evident in their range of ethnic-flavored Indian drinks and packaging messages. This strategy allows Paper Boat to establish a profound connection with its audience. Packaging helps with differentiating with a unique spout pouch. 
Patanjali Juices: No discussion about popular Indian beverage brands could be completed without Patanjali which has a range of fruit squash, aloe vera juice, neem juice and so on. The brand has grown exponentially since the day of its inception, with many customers depending on its ayurvedic and natural product branding.
Svami Drinks:
Foxtrot Beverages Pvt. Ltd a progressive drinks company makes the Svami range of tonic water and non-alcoholic pre-mixed drinks.  With their own recipe they can control quality of the core offering – tonic water.  However the non-alcoholic premixes will act as a differentiator and allow them to expand and defend their position.  The key ingredient of tonic water is quinine which led to an (unproven) belief in its efficacy against COVID-19.  One wonders if that helped sales 🙂
Soft drink brands around the world:
While it seems like the beverage market is owned by US brands, countries continue to have local favourites. 
One soft drink brand that originated in Singapore is Yeo's founded in 1900. They produce a wide range of refreshing drinks, including fruit juices, tea, and canned drinks.  There's also F&N that started life as "Fraser & Neave".  Indonesia has "Sosro." Established in 1940, Sosro is known for its iconic bottled jasmine tea, which quickly became a favorite among Indonesian consumers.  Australia has Bundaberg.
Schweppes claims to have started the category with tonic water way back in 1783!
QUIZ TIME!
Now that you know all about India's top beverages, take the quiz on our top soda brands!
Also read: Vocal for Local – how can India develop its own brands.